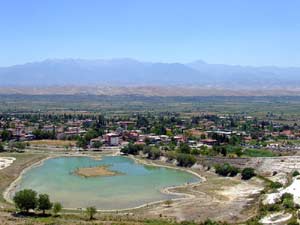 Pamukkale, meaning "cotton castle" in Turkish, is a natural site and attraction in south-western Turkey in the Denizli Province. Pamukkale is located in Turkey's Inner Aegean region, in the River Menderes valley, which enjoys a temperate climate over the greater part of the year.

The ancient city of Hierapolis was built on top of the white "castle" which is in total about 2700 meters long and 160m high. It can be seen from a great distance, eg. when driving down the hills on the opposite side of the valley to the town of Denizli, which is 20 km away.

Source:

Pamukkale places

Other areas
Alanya
Ankara
Antalya
Bodrum
Göreme
Istanbul
Izmir
Marmaris
Pamukkale


PamukkaleTurkey
Denizli is a tourism center to be seen with its Hierapolis and Laodikeia, Tripolis, antic cities, hot springs and Pamukkale which is unique in the world. Visit natural wonders of unique travertines, curative hot spring of Pamukkale which are renowned for thier rolein healing lots of diseases; moreover visit thermal springs such as Karahayit and Yenice. Also visit Hierapolis, Laodikeia, Colossae, Tripolis and Heraclaia settled by various civilizations, and holy places of antique age.