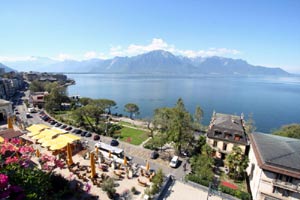 Montreux is a municipality in the district of Vevey in the canton of Vaud in Switzerland. It is located on Lake Geneva and has a population of 22,897.

Montreux lies on the north east shore of Lake Geneva at the fork in the Roman road from Italy over the Simplon Pass, where the roads to the Roman capital of Aventicum and the road into Gaul through Besançon separated. This made it an important settlement already in Roman times. In the 12th century, viticulture was introduced to the region, and the sunny slopes of the lake from Lavaux to Montreux became an important wine-growing region. The region was subject to various princes, most notably the princes of Savoy from the south side of the lake. They unified the territory which comprises the present canton of Vaud and were generally popular sovereigns. After the Burgundian Wars in the 15th century, the Swiss in Berne occupied the region without resistance, an indication of the weakness of the princes of Savoy. The Reformation made the region around Montreux and Vevey an attractive haven for Huguenots from Italy, who brought their artisanal skills and set up workshops and businesses. In 1798, Napoleon liberated the region from the Bernese. In the 19th century, the tourist industry became a major commercial outlet, with the grand hotels of Montreux attracting the rich and cultured from Europe and America.

Source:

Montreux places

Other areas
Basel
Bern
Geneva
Lugano
Montreux
Zürich


Montreux guide
All you need to know about Montreux, Switzerland, one of Europe's Major Destinations, World Famous for its Jazz Festival, Hospitality and beautiful sceneries: Book your Hotel Room, Order your Festival Tickets, Plan your Vacation, Incentive Travels or Conventions, Get Ready for World Class Events and Keep in Touch with a Lively Community!