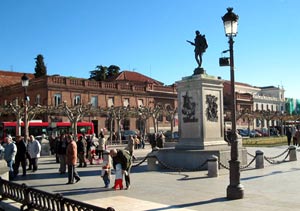 Alcalá de Henares, or Alcalá on the Henares, is a Spanish city, whose historical centre is one of the UNESCO's World Heritage Sites, and formerly one of the first bishoprics founded in Spain. Located in the Autonomous Community of Madrid, 35 km northeast of the city of Madrid, at a height of 2000 feet above sea level, it has a population of around 200,000, the second largest of the region after the Spanish capital itself. The city is generally known simply as "Alcalá", but "de Henares" is often appended to differentiate it from a dozen cities sharing the name Alcalá (from a Moorish Arabic word for fortification). It is capital of Comarca de Alcalá.

Source:

Alcalá de Henares places

Other areas
Alcalá de Henares
Aranjuez
Madrid
San Lorenzo de El Escorial


Alcalá de Henares links

Links Categories
OFFICIALS


Tourism in Alcalá de Henares
From the foundation by the Romans of the city of Complutum, many civilizations have passed through the harmonious and beautiful Alcalá de Henares, and each of them has made a generous contribution to the making of the town's rich historical and artistic heritage. That is why the city of Cervantes has become a key destination for Cultural Tourism.

As a matter of fact, the University of Alcalá, founded by Cardinal Cisneros in 1499, is the best conserved Renaissance university complex in Europe, and meant the beginning of a new cultural and social era in Spain. One of the tops of this Golden Age was "The Quixote", the masterpiece of Alcalá's most important son: Miguel de Cervantes.

You cannot miss the visit to the house of Hippolytus, a roman villa with remainders of the 1st to the 5th centuries A.D.; the Calle Mayor (Main street), the longest porticoed street in Spain, centre of the old Jewry; the Cathedral-Magistral of Saints Justo and Pastor, a work of late Gothic period built over the tomb of the saints martyred in this same place in the year 305; and, of course, the Museum Casa Natal, birthplace of Cervantes, where the author of "The Quixote" was born in 1547.