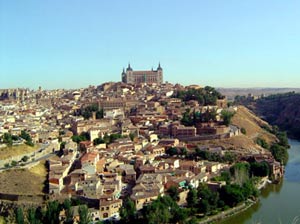 Toledo (Latin: Toletum; In Arabic: طليطلة Ṭulayṭela) is a city and municipality located in central Spain, 70 km south of Madrid. It is the capital of the province of Toledo and of the autonomous community of Castile-La Mancha. It was declared a World Heritage Site by UNESCO in 1986 for its extensive cultural and monumental heritage as one of the former capitals of the Spanish Empire and place of coexistence of Christian, Jewish and Moorish cultures. Many famous people and artists were born or lived in this city, including Garcilaso de la Vega, Alfonso X and El Greco, and it was the place of important historic events such as the Visigothic Councils of Toledo. As of 2005, the city has a population of 75,578 and an area of 232.1 km² (89.59 square miles).

Toledo later served as the capital city of Visigothic Spain, beginning with Liuvigild (Leovigild), and was the capital until the Moors conquered Iberia in the 8th century. Under the Caliphate of Cordoba, Toledo enjoyed a golden age. This extensive period is known as La Convivencia, i.e. the co-existence of Jews, Christians, and Muslims. Under Arab rule, Toledo was called Tulaytulah (Arabic طليطلة, academically transliterated Ṭulayṭulah).

Source:

Toledo places

Other areas
Albacete
Ciudad Real
Cuenca
Guadalajara
Toledo


| | |
| --- | --- |
| Toledo links | Links Categories |

Go Toledo
Go-Toledo is a Toledo, Spain city guide, offering tourist information on Toledo hotels, museums, monuments, excursions and much more.

The city of Toledo is the capital of the province of the same name, and is also the capital of the Autonomous Community called Castilla-La Mancha. The city is located at 529 metres above sea level, in the Castillian meseta (plateau), practically in the centre of the Iberian peninsula. and just 70 kilometers (43 miles) south of Madrid on the N-401 highway.

The historic city centre sits on a craggy rock, which is almost completely encircled by a wide meander of the Tagus river, called the Tajo in Spanish. The Roman historian Tito Livio mentioned the city of Toletum, a term whose origin would be Tollitum, meaning "raised aloft". The city's historic centre is one of the largest in Spain, and has more than 100 monuments.

1 - Hotel Beatriz Toledo - Toledo

Class :
No of rooms : 295
City : Toledo
Address : Ctra. Toledo-Avila km. 2.750
The Beatriz Toledo both modern and traditional in design, has superb views over the historical center of Toledo; an Imperial City declared a World Heritage Site by UNESCO and is located just 45 minute more ...

2 - Hotel Martín - Toledo

Class :
No of rooms : 31
City : Toledo
Address : Espino, 10
Hotel Martin is situated in a quiet area with easy parking, near the Puerta de Bisagra (main access to the historical centre), the tourist information office and the Museo Hospital de Tavera. 10 minu more ...