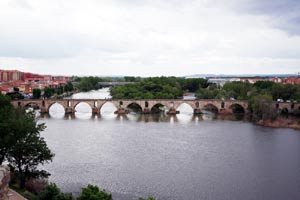 Zamora is a city in Castile-Leon, Spain, the capital of the province of Zamora. It lies on a rocky hill in the northwest, near the frontier with Portugal and crossed by the Duero river, which some 50km/30mi downstream reaches the Portuguese frontier. With its 24 Romanesque churches of the 12th and 13th centuries it has been called a "museum of Romanesque art". Zamora is the city with more romnasque churches in all Europe. Zamora has a unique romanesque art, with peculiar characterist which can´t no possible to find in another places.

Zamora, south of Leon, is a city with a medieval flavour, artistically marked by the Romanesque Style, of which it has preserved nearly a dozen churches and a magnificent cathedral, topped by a strange Byzantine dome. A few kilometres from the city is the rare and valuable Visigothic church of San Pedro de la Nave, from the 8th century.

Source:


1 - Meliá Horus Zamora Boutique Hotel - Zamora

Class :
No of rooms : 45
City : Zamora
Address : Plaza del Mercado, 20
Melia Horus Zamora Boutique Hotel, a former mansion transformed into a Grand Little Hotel. The intimacy, impeccability and individual personality of its rooms and facilities will make your stay in our more ...