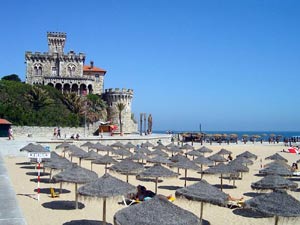 Estoril is a civil parish of the Portuguese municipality of Cascais. The Estoril coast is close to Lisbon, the capital of Portugal. It starts in Carcavelos, 15 kilometres from Lisbon, and stretches as far as Guincho.

The two main resort towns are Estoril and Cascais. Estoril has a famous casino, the Estoril Casino. Estoril was the residence of Juan de Borbón, pretender to the Spanish throne during the last part of the 20th century.

The population of Estoril in 2001 was 23,769, its density is 2,702/km² and the area is 8.79 km².

The coat of arms are coloured blue a golden sun with five crests one in the middle and one outside. The waves of grey and pine green lie to the bottom. The crown has three towers on the top.

There are remains of Roman mansions dating back around 2,000 years.

Estoril used to be a significant fishing port. Since the early 20th century it has been important mostly as a tourist destination. Here lived and died in immigration Miklós Horthy (†1957), the regent of Hungary between the two world wars.

Source:

Estoril places

Other areas
Albufeira
Cascais
Estoril
Évora
Faro
Funchal
Lagos
Lisbon
Madeira
Porto
Tomar
Vilamoura


Estoril Portugal
With its mild year-round climate, the Portuguese Riviera (as the region is sometimes known) offers a surprising variety of landscapes and attractions, combining a wide range of possibilities in one very unique destination. From pure leisure to business, golf, sun, sea and water sports, the Estoril Coast simply has it all and offers a new definition of the concepts of eco- and activity-based tourism.