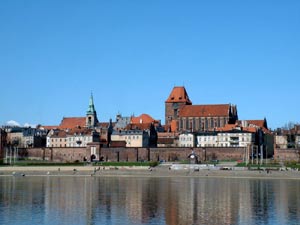 Toruń is a city in northern Poland, on the Vistula River. Population (2006) was 207,190, which makes Toruń the second, after Bydgoszcz, biggest city of the Kujawy-Pomerania Province. The medieval town, the birthplace of Nicolaus Copernicus, is listed as a UNESCO World Heritage Site.

Previously the capital of Toruń Voivodeship (1975-98) and Pomeranian Voivodeship (1921-39), since 1999 the self-government of the Kujawy-Pomerania Province has had its location in the city (the government administration is located in Bydgoszcz). Toruń forms, with Bydgoszcz, 45 km away, the Bydgoszcz-Toruń urban agglomeration. In September 2004, Bydgoszcz Medical School, in Bydgoszcz, joined Toruń's Nicolaus Copernicus University as its Collegium Medicum.

Source:

Toruń places

Other areas
Gdańsk
Gdynia
Katowice
Kraków
Łódź
Poznań
Sopot
Szczecin
Toruń
Warsaw
Wrocław
Zakopane


Torun Online
Home of Copernicus, and a prominent trade centre in the middle ages, Torun is well preserved and a UNESCO World Heritage Site attracting tourists from around the world. There is a great number of things to see, whether you are interested in history, astronomy, architecture, society or just enjoy visiting beautiful cities, you will not be disappointed. Tours of the city and meetings with special interest groups can be organized in line with your particular interests. Find the best accommodation offers with Torun Hotel Finder. Search for tips about Torun life, sightseeing tours and current events with Torun Online.