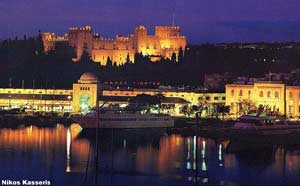 Rhodes is the largest of the Dodecanese islands in terms of both land area and population, situated in eastern Aegean Sea. This Greek island lies approximately 11 miles (18 km) to the west of the Turkish shores, situated between the Greek mainland and the island of Cyprus. As of 2001, it has a population of 117,007 of which 53,709 reside in the capital city of the island.

Historically, Rhodes was famous worldwide for the Colossus of Rhodes, one of the Seven Wonders of the World. The medieval Old Town of the City of Rhodes has been declared a World Heritage Site. Today Rhodes is a major international tourist destination.

Source:

Rhodes places

Other areas
Athens
Crete
Cyclades
Ionian islands
Peloponnese
Rhodes
Sporades
Thessaloniki


| | |
| --- | --- |
| Rhodes links | Links Categories |

Travel Rhodes
Rhodes is the largest of the Dodecanese islands and one of the largest in the Aegean sea. It is situated approximately 17,7 km from the coasts of Turkey. The population is about 130.000 persons , of which approximately 60-70.000 reside in the city of Rhodes. Rhodes called from its local people the Rose of the Aegean and deserves its name because is one of the most beautiful Greek islands. The essential travel and accommodation guide to the dodecanesian island of Rhodes, Greece. We offer a virtual tour in rhodes island and tourist information such as accommodation. Best beaches and the places to visit in Rhodes, weather, news and events.