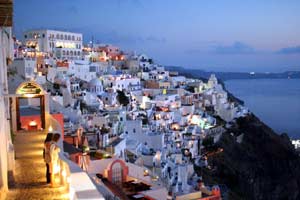 Fira is the capital of Santorini, Greece, and the most important of all villages. It is located at the west side of the island and 10 km away from the main port, Athinios. Fira has a 1.600 constant inhabitants. It is perched on the edge of an impressive cliff, at a height of 260 meters and offers a great panoramic view of the submerged volcano.

In 1956, the island of Santorini was hit by an earthquake that destroyed a large part of the island. In Fira, a part of the town was destroyed, but luckily, some of the 18th century buildings were saved. The town of Fira is a typical Cycladic village made of charming white houses with blue windows and doors, separated from each other by small paved streets. Many of its beautiful buildings were constructed back in the times of the Venetian invasion, including some blue domed churches and sun-bathed verandas that offer an incredible view of the volcano and the sunset.

In our days, Fira is a busy town. During summer and in its high season, the central streets are crowded and filled with all kind of shops, jewelleries, restaurants, cafιs, bars and night clubs. Despite all the tourist traffic concentrated in town, many areas are always quiet. One can find places to relax and enjoy a great view of the island and the surrounding area. For those in search of a knowing better the culture of the island, an Archaeological Museum museum hosting many items from excavations done in the ancient Minoan settlement of Akrotiri can be visited in the town of Fira The town also has many churches and monasteries such as Agios Minas, the cathedral of Hypapandi, the cathedral of Christ, the monastery of Panagia ton Dominikanidon, Panagia tou Rodariou and the Catholic Cathedral. There is also the Megaron Gyzi Museum which has a fascinating collection of photos of Fira before and after the earthquake of 1956. Fira also has a port that was, for many years, the main port of Santorini. Today, this port is only used for cruise boats. From there, boats can take visitors for a tour of the volcano of Nea and Palia Kameni.