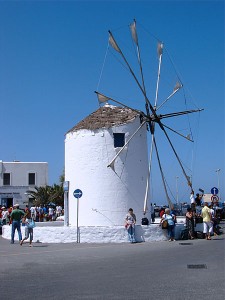 Parikia Paros: Also called Paros Town or Hora, Parikia is the capital of Paros Greece and has about 3000 inhabitants. Parikia was built on the same site where the ancient city and capital used to stand.

This little town is the commercial and cultural centre of Paros as well as the main harbour of the island, serving many other islands; for the many connections Paros offer, thousands of visitors are passing every summer by Parikia just to catch a connection for another island.

Parikia is built amphitheatrically around the port and has a typical Cycladic architecture, with whitewashed cubic and flat roofed houses with spare architectural lines and coloured wooden doors, windows and balconies.
Parikia places

Other areas
Naoussa
Nea Chryssi Akti
Parasporos
Parikia


Parikia guide
Parikia (or Chora) is the biggest settlement of the island with 3,000 inhabitants. During summer, when the population doubles, life in Parikia becomes more vivid and its strolls are thronged with colorful and multi-lingual groups of tourists.

Despite the quick development of the small town during the last few decades, Parikia manages to keep a great part of its island charm and it never ceases to be a town steeped in history.