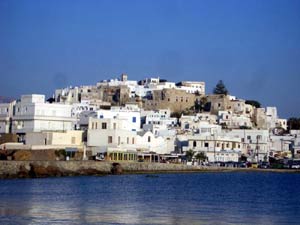 Naxos City (Greek: Νάξος; Italian: Nasso) is the capital of the Greek island, Naxos. It has an area of 126.957 km². The municipality is located on the west side of Naxos Island in the Cyclades island group in the Aegean. It was the centre of archaic Cycladic culture. It shares the island of Naxos with the municipality of Drymalia.

The largest town is Hora, sometimes called Naxos City, with 6,533 inhabitants (2001 census). The main villages are Vivlos, Agios Arsenios, Glinado, Galanado, Melanes, and Kinidaros.

Naxos Island is a popular tourist destination, with several easily accessible ruins. It has many beautiful beaches, such as those at Agia Anna, Agios Prokopios, Alikos, Kastraki, Mikri Vigla, Plaka, and Agios Georgios, most of them near Hora.

Source:


1 - Anatoli Hotel - Naxos town

Class :
No of rooms : 30
City : Naxos town
Address : Chora
Situated in a privileged site on the Cycladic island of Naxos, this hotel is a close distance from the pretty Agios Georgios beach. Delight in the family atmosphere and comfort of this hotel in the more ...