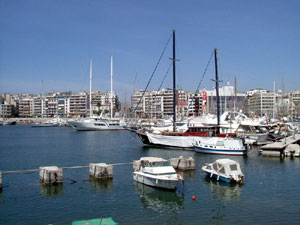 Piraeus (Modern Greek: Πειραιάς, Peiraiás, Ancient Greek / Katharevousa: Πειραιεύς, Peiraieús) is a city in the periphery of Attica, Greece, and a suburb located 9 km to the south-west of the center of Athens. It is the capital of the Piraeus Prefecture and belongs to the Athens urban area, being the second most populous municipality of the Greek capital, following the Athens municipality. It was the port of the ancient city of Athens and was chosen to serve as the modern port when the city re-emerged in 1834. Piraeus is the largest port in Europe and the third largest in the world in terms of passenger transportation, servicing 19,000,000 passengers annually. The Piraeus station is the terminus of Line 1 (the "green line"), the electric train service now incorporated into the Athens Metro. The uninhabited island of Psyttaleia is also within municipal limits.

The population of the municipality of Piraeus is 175,697 (2001). The prefecture of Piraeus, which includes the surrounding land and some of the islands of the Saronic Gulf, has a population of 541,504 (2001).

Source:

Piraeus places

Other areas
Piraeus


Piraeus
Piraeus is Greece's third largest city in terms of population and its biggest port. It was first settled in the ages of Themistocles, when the Long Walls were built (478 BC), and the town was being laid out to the plans of the architect Hippodamus. It gained considerably in importance when Athens became a naval power. The ancient harbours of Piraeus were Zea and Munichia.