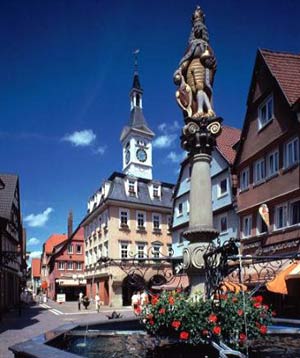 Aalen (pronounced [ˈaːlən]) is a town in the German state of Baden-Württemberg. It is the seat of the Ostalbkreis district, and its largest town.

Aalen is situated on the upper reaches of the river Kocher, at the foot of the Swabian Alb to the south and south east and close to the hilly landscape of the Ellwanger Berge to the north. The Aal is a small river stretching only on the town's territory. Aalen is at about 70 kilometres east of Stuttgart and 48 kilometres (30 miles) north of Ulm.

Source:

Aalen places

Other areas
Aalen


| | |
| --- | --- |
| Aalen links | Links Categories |

City of Aalen
Centrally located in the heart of Eastern Württemberg/Germany, Aalen is the gateway to the Swabian Jurassic Geological region, and only one hour's drive from Baden-Wuerttemberg's state capital Stuttgart. In 150 A.D. the largest Roman cavalry fort north of the Alps was located here. The city's founding in 1240 by Staufer Emperor Frederic II, the declaration of the Imperial Town in 1360, the industrial development in the 19th century, the incorporations in the 1970s – these developments outline the growth of the city's metropolis with its 67,000 inhabitants and its seven suburbs. Work, quality lifestyle and recreation are tightly linked, which explains why people are happy living here.