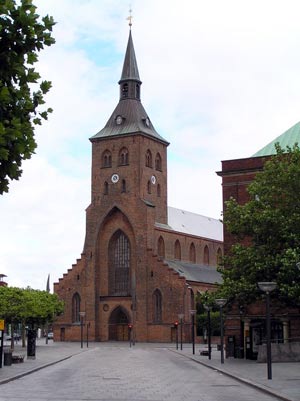 The city of Odense is the third largest city in Denmark.

Odense city has 146,564 inhabitants, as at January 1, 2007, and is the capital of the island of Funen. It is the seat of Odense Municipality and was the seat of Odense County until 1970, and Funen County from 1970 until January 1, 2007 when the county became part of Region Syddanmark.

The city lies close to Odense Fjord on the Odense River. Its railway station lies on the route between Copenhagen and Jutland, the peninsular mainland. A 7.5 metre (25 ft.) deep canal, dug from 1796 to 1806, gives access to the town from the fjord.

Accessibility to Odense was greatly increased when the ferry service between the two main Danish islands, Zealand and Funen, was replaced by the Great Belt Bridge - opened in 1997 for rail traffic, 1998 for road traffic. The bridge is the second longest suspension bridge in the world. Its construction greatly cut transportation time between Odense and the Danish capital, Copenhagen. Copenhagen can now be reached by trains from Odense in 1 hour and 15 minutes.

Source:

Odense places

Other areas
Aalborg
Copenhagen
Frederiksberg
Kastrup
Odense


Visit Odense
Odense has more than 15 museums and attractions to chose from and something for every taste. Odense is the city of festivals. All year round we have cultural festivals and lots of fixed cultural events. In Odense we are known, among other things, for our cycle paths but we have plenty of other opportunities for small tours, both on foot or by boat. Discover our many sculptures, our magnificent architecture, both new and old, or go for a river cruise.