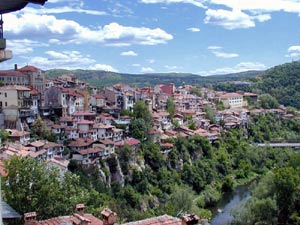 Veliko Tarnovo (also transliterated as Veliko Turnovo) is a city in central northern Bulgaria and the administrative centre of Veliko Tarnovo Province. It is located on the Yantra River and is famous as the historical capital of the Second Bulgarian Empire, attracting many tourists with its unique architecture.

Source:

Veliko Tarnovo places

Other areas
Arbanasi
Balchik
Bansko
Burgas
Golden Sands
Nesebar
Plovdiv
Sofia
Sozopol
Sunny Beach
Varna
Veliko Tarnovo


Veliko Turnovo
Veliko Turnovo, the medieval capital of Bulgaria, is brought to you with more than 7000 years of history. The houses, stacked one above the other, situated on the slopy hills of the town show a remarkable, unique architectural style. The bridges, unexpectedly flying over the river, palaces and towers, spectacular museums, ancient columns with writings left by our proud rulers, monasteries with unique murals and the Arbanassi fortress-houses.