Asia / Laos travel directory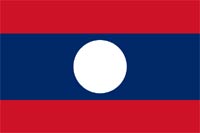 Laos, officially the Lao People's Democratic Republic, is a landlocked communist state in southeast Asia, bordered by Myanmar (Burma) and China to the northwest, Vietnam to the east, Cambodia to the south, and Thailand to the west. Laos traces its history to the Kingdom of Lan Xang or Land of a Million Elephants, which existed from the fourteenth to the eighteenth century. After a period as a French protectorate, it gained independence in 1949. A long civil war ended when the communist Pathet Lao movement came to power in 1975.

Private enterprise has increased since the mid-1980s. Laos has been ranked among the lowest countries in terms of economic and political freedom. Despite this, the economy of Laos grew at 7.2% in 2006, 35th fastest in the world. 80% of the employed practice subsistence agriculture. The country's ethnic make-up is diverse, with around 70% belonging to the largest ethnic group, the Lao.

Source:

Laos places

Other areas
Azerbaijan
Cambodia
China
India
Indonesia
Iran
Israel
Japan
Laos
Malaysia
Myanmar
Nepal
Thailand


| | |
| --- | --- |
| Laos links | Links Categories |

Grand Luang Prabang
Grand Luang Prabang Hotel & Resort. Grand Luang Prabang hotel and resort is situated on grounds of the Xiengkeo Palace which belonged to the famous nationalist hero of Luang Prabang, Prince Phetsarath. He chose this site for tranquility, its stunning views of the mighty Mekong River, and the breathtaking landscape of mountains surrounding Luang Prabang.

Eye on Laos
The Lao People's Democratic Republic is located in South East Asia at the center of the Indochina Peninsula. It is the least developed and most enigmatic of the three former French Indochina states. A ruinous sequence of colonial domination, internecine conflict and dogmatic socialism finally brought the country to its knees in the 1970s, and almost ten per cent of the population left. Laos hotel reservation and travel directory by Eye on Laos.

Visit Laos
Laos hotels and tours, south east Asia and indochina travel and tourism - accommodation in Vientiane and Luang Prabang. The original visit-laos.com website was produced as a private/public sector participation project by ETC Asia, on behalf of the National Tourism Authority of Lao PDR to promote the Visit Laos Years 1999 -2000. This website is now no longer associated with the NTAL and is run by the private sector.