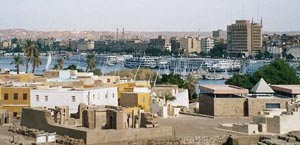 Aswan (Egyptian: Swenet (=trade); Greek: Συήνη Syene; Arabic: أسوان Aswān; Spanish: Asuán) (24°05′N, 32°56′E, population 200,000) is a city in the south of Egypt, the capital of the Aswan Governorate. It stands on the east bank of the Nile at the first cataract and is a busy market and tourist center.

Aswan is one of the driest inhabited places in the world; as of early 2001, the last rain there was 6 years earlier. As of 13 October 2007, the last rainfall was a thunderstorm on May 13, 2006. In Nubian settlements, they generally do not bother to roof all of the rooms in their houses.

Aswan is the ancient city of Swenet, which was in antiquity the frontier town of Egypt to the south. Because the Egyptians oriented towards the south, Aswan was the first town in the country, and Egypt was always conceived to open or begin at Aswan. It stood upon a peninsula on the right (east) bank of the Nile, immediately below (north of) the first cataract, which extend to it from Philae. It is supposed to have derived its name from an Egyptian goddesses with the same name, the Ilithya of the Greeks, and of which the import is the opener.

Source:

Aswan places

Other areas
Aswan
Cairo


Aswan guide
Aswan, City of in Egypt with info on weather, htoels, accommodations, lodging, night clubs, restaurants, the Nubia Museum, elephantine, Philae, Aga Khan, St. Simeon's Monastery, Unfinished Obelisk and Tombs of the Nobles, vacation and tour info. Aswan, Egypt's sunniest southern city and ancient frontier town located about 81 miles south of Luxor, has a distinctively African atmosphere. Its ancient Egyptian name was Syene. Small enough to walk around and graced with the most beautiful setting on the Nile, the pace of life is slow and relaxing. Days can be spent strolling up and down the broad Corniche watching the sailboats etch the sky with their tall masts or sitting in floating restaurants listening to Nubian music and eating freshly caught fish.